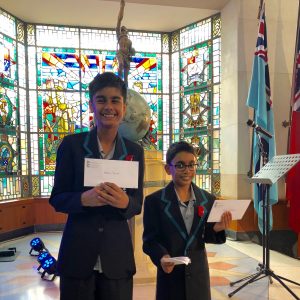 Nikhilesh Prasad, 9W2  (left) and Fauzaan Muhammed, 7W1 were named as finalists for the Auckland Museum 2018 Lest We Forget Poetry Competition.
The judges were looking for poems that touched on this year's theme of An Unprecedented Trial.  Those that stood out took unusual perspectives or told stories that were somehow fresh.
Both students were invited to read their poems inside the Museum on ANZAC Day 25 April and did so proudly in the presence of family and friends.
To read these insightful and moving pieces of work click on the titles below: